General Meetings are held in the Society's hall on a monthly basis (refer syllabus). The meetings are open to all members and visitors and provide an opportunity for the main committee to keep attendees up to date with the activities and developments that are taking place in the gardens and the Society as a whole. The meetings also present the chance to welcome new members and feature guest speakers who specialise in a variety of interesting specific horticultural subjects. Occasionally excursions are taken to visit gardens of botanical significance.
Meetings will be held on the second Saturday of each month at 2:00pm.
Contact: Emma Moysey  ph 0422 231 924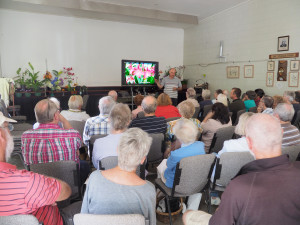 2017 Syllabus & Notices
January
 No Meeting
February
11th
'Why use native plants in your garden'   Presenter: A.B.Bishop
March
4th
A.G.M.
11&12th 
Plant Collectors Sale & Garden Expo
April
8th
 Visit the garden of Karen and Eric Watson.  Refer to the newsletter for details.
May
13th
'Guiding at the Royal Botanic Gardens'.  Presenter: Virginia Heywood
June
10th
T.B.C.  Queen's Birthday long Weekend – no meeting
July
8th
'Kangaroo Paws'.  Presenters:-  Rodger and Gwen Elliot
August
12th
'Use of natural features in the landscape'.  Presenter:  Phillip Johnson, landscape designer.
September
9&10th
Spring Show.
October
14th
'Sustainable gardening solutions, vertical surface gardening'. Presenter: Dr John Rayner, University of Melbourne.
November
11th
All Day Event. Garden visit to 'Alowyn Gardens' @11.00am and 'Antique Farm Perennials'@2.00pm.  Refer to the newsletter for details.
December
2nd
Christmas Party – details T.B.C.
Flower Shows